With the SiFuel solution we are able to connect and measure 100% of diesel tanks models.
SiFuel is a solution with easy instalation.
Ultrasound sensor with max. Range of 7,2m.
Interchangeable battery type AA.
Plug & Play solution with easy installation.
No ATEX certification. Not to be used in pressurized tanks. Restriscted use in diesel tank A, B, C and Ad-Blue (Spain and Portugal).
Parametrization interface and API.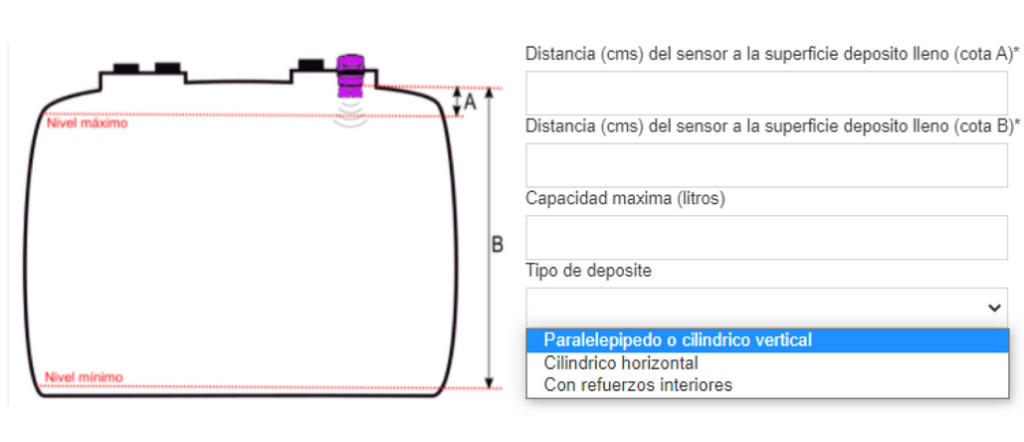 Able to measure any tank with an opening of 5cm:
PE Tanks
Vertical and horizontal cylinders
Underground tanks
Model

SiFuel

Dimensions

Height 75mm

Diameter

55 mm

Exterior thread

2"

Interior thread

1,5"

Deflagrator

2,5 cm

Battery capacity

Lythium battery AA 2800mAh x2 = 5600mAh

Battery duration

5 years *

Humidity

0 – 99 %

Temperature range in active state

-10º / + 55º

Storage temperature

-25º/ +70º

Sensor

Ultrasound- max. range 7,2m

Communication module

Nb-IoT/LTE-M/2G

* Variable depending on climate conditions and frequency of data
Responsible: Signos New Technologies, S.L.
Purpose: Respond to queries raised by the user and send them the requested information
Legitimation: User consent.
Addressees: Transfers are only made if there is a legal obligation.
Rights: Access, rectify and delete, as well as other rights, as indicated in the Privacy Policy.
You can find the complete information in our
Privacy Policy
.